A few months ago I participated in a conference organized by the Romanian Central Bank. On that occasion, against the backdrop of Mr. Juncker`s vaguely optimistic statements on the new European architecture, people talked endlessly about including Romania in Europe`s hard core. That is alongside France, Germany, the Netherlands and other like countries. My speech, which was meant as a wake-up call, was immediately rebuffed by a very grave speaking moderator who was by and large saying that, unfortunately, time did not allow for a reply to match my pessimistic approach.
Was my attitude negative because I pointed out the fact that, beyond chest thumping statements, Romania did absolutely nothing that would make it eligible for inclusion into the hard-core Europe? How, may I wonder, will I be qualified now when I say that Romania, once more and despite its insistent declarations over the past decades to the contrary, managed to do its best not to become a regional leader? And I repeat: it was not the others, but ourselves who made sure that was not going to happen as we had enough opportunities and trump cards up our sleeves.
A missed opportunity, which was a first indication of our leaders` ability to play Romania`s regional leader card was the failure of Petrom as a state-owned enterprise. Surely, we now look enviously at the regional success and clout that an oil company, such as MOL holds. Let us not forget, however, that at the starting line, Petrom was much better placed, based solely on its oil and gas reserves and past experience which MOL clearly lacked. As a business, Petrom held all the advantages to become a large company in the region. The Romanian government, as main shareholder, made sure with its flawed corporate governance that that did not happen and the company was in the end privatized.
That was the time when the stars of the once communist part of Europe were the Visegrad Four countries, champions of reforms and market economy, were drawing in hoards of foreign investors and European funds. Romania was being looked down by the V4 and regarded with reservations by the rest of Europe as it dragged its feet on reforming, had a hostile business environment, and was lagging behind in terms of developing its infrastructure. And the economic figures do not lie. In the past 20 years, Romania was not able to recover the around 10 year development gap from a country similar in size, Poland. Moreover, there were times when the gap actually increased. In point of fact Romania did not have the slightest intention to duplicate the success model of those countries, remaining an almost permanent IMF client due to fiscal slippages and lack of bold reforms.
And yet, here we are, in a situation that absolutely nobody has foreseen, where the class pets of the Visegrad Four became Europe`s outcasts. Their nationalist and illiberal policies departed more and more from European values which resulted in their increased marginalization. A huge chance for Romania to overcome them in the congeniality rankings and finally outrun them as a destination for foreign investments as it depicts itself as a state upholding the European values that investors are familiar with in their home countries unlike its neighbors.
Romania could finally become a regional leader. But, again, it refused. Instead of standing out, it chose to ensure that the business environment is unpredictable enough and political messages are conflicting enough to keep the country in the shadow of the Visegrad Four even after their demotion. Furthermore, it is considering the idea of becoming part of this Eurosceptic group, after years of lacking any ambition to join them in their age of pro-European reforms. That, alas, is the scope of its ambition.
The regional leader status involves becoming a responsible hub for the trade corridors crossing the region. For that to happen, it takes much more than putting together regular international conferences followed by a lack of action. Until the next conference. Romania – "a strategic node", "part of the Silk Road", a "bridge between East and West", "a gateway to Europe"?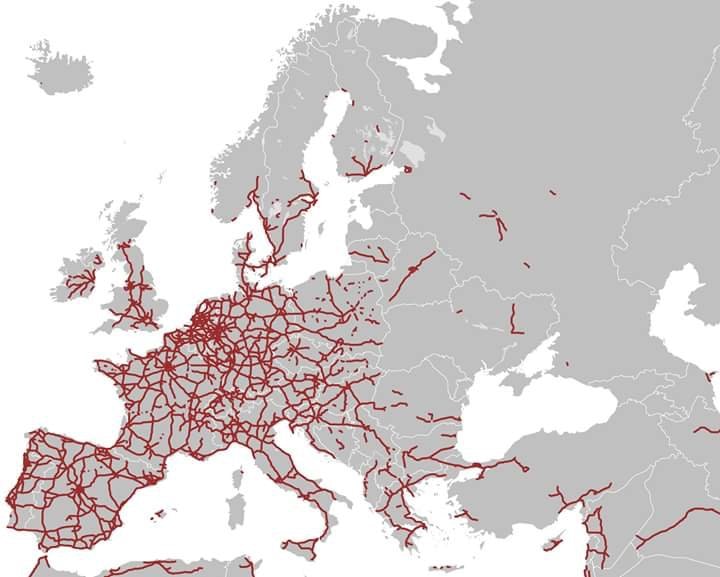 Look at the adjoining map to realize that a picture is worth a thousand empty words. A picture that illustrates the utter isolation in which a country claiming strategic importance and regional leadership finds itself. How can anyone have an all-country development plan, how can anyone become a trade hub when the country is crisscrossed by mountains but not by a single highway. How can one become a powerhouse with so apparent development disparities between Eastern and Western regions which grow deeper every year?
And something else stands out when you glance at the map. A lack of arguments for those supporting the no highway idea between Moldova and Transylvania considering the Eastern Carpathians as a Maginot line. Compare the one highway between eastern and western Romania with the Polish mesh of highways, a country which, as George Friedman put it, represented the perfect shortcut for conflicts between East and West. On the face of it, the Poles were completely blind when they built so many roads ….
How fast trade goes, however, does not rely on internal infrastructure, alone. It is also dependent on how fast borders are crossed. From this perspective, being a Schengen member state was a prerequisite. Another goal not met. Clearly, linking Schengen membership to the Cooperation and Verification Mechanism was in principle unfair. Clearly, it is not fair to change the rules of the game midway through the game. But will a perfectly well-functioning judiciary not be in Romania`s best interest at the end of the day?
Would consistently positive outcomes and removing any reasons for concern which would result in ending the CVM not lead to a win-win situation in terms of both the judiciary and the Schengen membership? And with the Anti-Corruption Agency [DNA] and its success in fighting bribery well established, the direction seemed to have finally been set. Let us not forget that Romania was already providing an example across Europe in the fight against corruption. Given how fast things were moving along, not even the fiercest critics of the CVM reports would have anything to comment, and the Schengen membership would have followed. Now the die is cast. Under the current circumstances, the CVM will not be ended, Romania will not become member of the Schengen area, and run the "risk" of becoming a trade hub, and the Port of Constanta will not see its regional role increase.
The Port of Constanta does not suffer from a lack of road infrastructure, alone, but also from a failure to use the Danube as a waterway. And since it is fashionable to blame the Dutch who allegedly protect the Port of Rotterdam from slipping into irrelevance, I encourage you to read this article, which points out the actual reasons for not using the Danube as a proper means of transport. Yes, it is again our fault.
The presidency of the Council of the European Union might be another chance for Romania to stand out internationally as a creative country with a potential to become a regional and even a European leader. Looking at today`s local and foreign agenda of Romania, however, looking at the messages that the European representatives are conveying to Romanian leaders, what authority do you reckon Romania will enjoy in the EU and who will be the discussion partners for European leaders?
The litmus test illustrating the rift between words and actions, between an ambition to sit at the table of the big players and an appetite for small stakes alone is the time when Providence gives you the trump card that propels you as a broker among the powerful. You wake up overnight with mineral resources coveted by the whole Europe: natural gas. It is now that you demonstrate whether the big games that you have been dreaming to be a part of for the past two decades, whether your foreign and alliance policy, whether your values, your ethics, and at the end of the day your regional position provide you with the status, the toolkit to make the most of that geostrategic and economic advantage.
We, however, already know the answer, based on how stubbornly Romania refuses to really take responsibility for the advantages that would turn it into a regional leader. Small wonder, then, that others with a lot less, but with a well-thought-out and implemented country strategy, act as regional leaders and based on the "a barking dog never bites" principle, leave us to talk endlessly about our regional importance.
Have a nice weekend!